If you have information, photographs, or anything else to add to these pages, please contact me.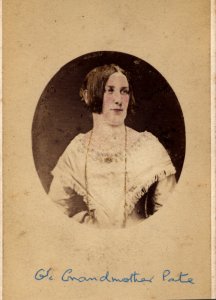 Elizabeth Drage Brandford, around 1856.

The rear looks as if it is from the 1870s, whereas her fashion appears to be from the 1850s.

This may have been an 'ambrotype' on glass from the 1850s that was later converted into an 1870s photo card.

I found this photograph in an album previously owned by Gwen Drage Allberry and Joan Edith Allberry.