If you have information, photographs, or anything else to add to these pages, please contact me.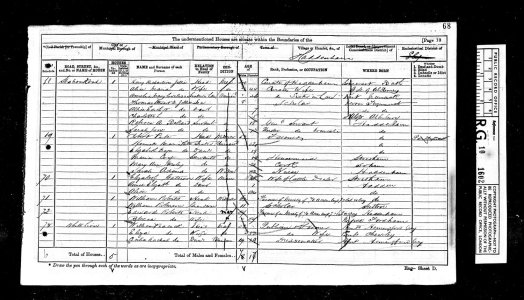 The 1871 census, showing the widower Robert Pate living with his unmarried sister and daughter in Station Road, Haddenham, Cambridgeshire.
It says 'Paralysed' in the last column of his entry - but is it crossed out?



Station Road Robert Pate          Head     Widower   53    Farmer    Haddenham Paralysed Robert Pate
             Hannah Maria Pate    Sister   Unmarried    57           Haddenham           Anna Maria Pate
             Elizabeth Drage Pate Daughter Unmarried    19           Haddenham           (Bessie) Elizabeth Drage Pate
             Maria Coy            Servant  Unmarried    19 Housemaid Stretham
             Mary Ann Houley      Servant  Unmarried    20 Cook      Soham
             Sarah Adams          Servant  Widow        53 Nurse     Stretham